ALL-SKY SCENARIOS
Due to difficulties in certain terrains, it was possible to photograph only a 180 degree section of the view. The three images have been reversed to complete the six-part All-Sky.
CHION'IN TEMPLE, KYOTO - purity, power and presence penetrate into one in this awe inspiring space
JAPANESE GARDEN - peace and tranquillity envelop and blend the creations of humanity and nature
PEACE PINE - a flower garden and tree complement each other in a park dedicated to world peace
ASPENS - the vibrant greens of a mountain meadow
ICE CAVE - in a collapsed lava tube lies a perpetually frozen cave with an ice floor and green algae-covered ceiling
DELICATE ARCH - is a true wonder of nature, a giant water-sculpted arch atop a very high plateau as seen from the basin below it
THE GRAND TETONS - the main mountains face-on
KITT PEAK RADIO TELESCOPE - with ears and eyes wide open
KITT PEAK DOME - a large dome with several other astronomical arrays off in the distance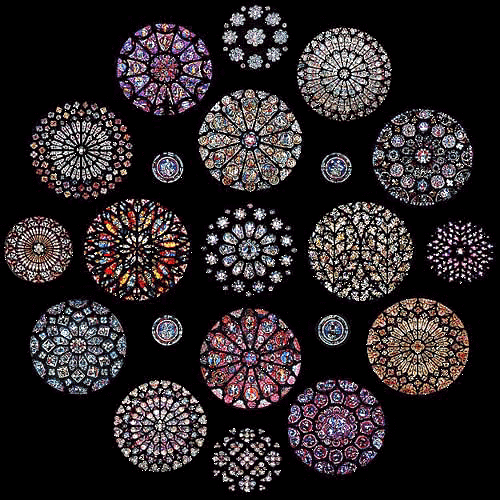 SPECIAL BLENDS
These creations require the use of several systems, such as panorama, all-sky and zenith projectors. A detailed description of a suggested projector arrangement is included with each slide package.
ROSE OF ROSES - This is the most beautiful collection of stained glass windows in the world! The great rose windows from the cathedrals of Chartres, Notre Dame de Paris, Laon, Clermont-Ferrand, Lyon, Amiens, Reims and Lincoln are combined into a breathtaking new work of art. Only in a planetarium dome can these 13 masterpieces be viewed as a single integrated unity. (A slide of this color balanced arrangement is available on request.)....$130.00
LANCETS - Like a rainbow mandala radiating streams of light, 18 of the most dazzling gems of medieval stained glass tall windows appear as in a vision. This sumptuous feast for the eyes features masterworks from the cathedrals of Bourges, Chartres, Auxerre, Rouen and Poitiers. (A slide of this color balanced arrangement is available on request.)....$180.00
PETROGLYPHS AND PICTOGRAPHS - Travel back in time to the original American Southwest. A dozen rock art images from the Archaic, Anasazi, Fremont and Mogollon cultures dance around the dome. Included are The Holy Ghost and Attendants, Kokapelli and the Archaic Guides, Sunshield Shaman, Buffalo Dancer, Space Aliens, Butterfly People, Solar Snake, Hair-Raiser, Floppy Ears, The Birthing Scene, Medicine Circle and The Supernova Pictographs.....$120.00
SPACE HANDS - a series of 12 slides showing the human hand in geometrical arrangements from 2 to 9 sided figures, in a spiral, a stack, flying in formation and flying apart. Unique!....$120.00
DINOSAUR DELUXE - a delightful dozen of those delectable dinos featuring Parasaurolophus, Stegosaurus, Triceratops, Ceratosaurus, Camarasaurus, Maiasaurus, Opthalmosaurus, Allosaurus, Elasmosaurus, Ankylosaurus, Apatosaurus, and Tyrannosaurus Rex (plus more.)....$120.00